Learn to organize and manage contacts in Propel.
Any PR professional knows that good contact and media list management is the basis for effective pitching. Building and managing media lists is one of the basic functions of Propel. If you have used a CRM before, you will appreciate how Propel is tailored for PR specific needs. If you have been managing your contacts and lists through spreadsheets, then you will be amazed at how much Propel simplifies this process.
Viewing Contacts and Pitching Lists
Contacts and pitching lists are accessible through the Pitch menu:
Accessing Pitching Lists and My Contacts
Pitching Lists
A pitching list is a media list that you use for pitching. You create one list for each of your pitching initiatives (campaigns). Contacts can appear in multiple lists, and you will archive these pitching lists once the pitching initiative is complete.
My Contacts
This lists all of your firm's contacts in Propel with no breakdown by media list. Contacts appear in this list after they've been imported from the media database, added manually, or uploaded from a CSV. Each contact appears only once, and all contacts are available to everybody at your firm.
Searching for Contacts
As part of building your pitching list, you must find the contacts that are most likely to accept and publish your story. Propel makes it very easy to find the contacts that you need.
Finding contacts in the media database
Please refer to this knowledge base article about searching the media database.
Finding contacts in My Contacts
All contacts that you add to Propel appear in your My Contacts list, accessible from the main menu under Pitch. We give you several ways to easily find the contacts you are looking for.
My Contacts
Search – In the top right corner, there is a search bar. This is free text, and will search through all contact fields, including name, media outlet, job title, and more.
Sort – There are a number of sort options to help you find the contacts you need. Sorting by response rate can help you find the contacts most likely to answer your pitch, all sorting by recently contacted makes it easy to understand who you've been talking to the most.
Filter by – View contacts who you've previously pitched and who you have a relationship with, or exclude contacts who meet double pitch criteria and you don't want to pitch again immediately. If you are viewing a pitching list and not My Contacts, you can also exclude contacts who are already pitched or view contacts who are assigned to you.
Select tags – Tags are one of the most powerful ways to segment media lists. For example, you can search by a topic such as Health & Medicine, or for Local news to find contacts or appropriate for your regionally targeted pitch. Any contact with the selected tags will be shown when filtering by tags. See below for how to tag contacts.
Tagging Contacts
Tagging contacts makes it very easy to segment and search your media lists. Once you tag a contact, that tag will appear everywhere that contact appears, including the My Contacts list and all media lists. You can then filter your contacts by tags to group them exactly the way you want, including from Gmail or Outlook at the time of pitching.
Tags can be added to your contacts in the following ways:
Importing tags from the media database
Tags are imported automatically from the Propel media database when you add journalists to your media lists.
Adding tags manually
You can manually tag one or more contacts, either from the My Contacts list or from within a pitching list.
To tag a single contact, click the ellipses button on the appropriate contact's card and then click the tag button.
Tag a single contact
To tag multiple contacts at once, select multiple contacts using the checkboxes and then click the tag button.
Tag multiple contacts
Tags can be removed in the same way.
Adding tags from a CSV upload
Many contacts can be tagged at once during a CSV upload. Please see Uploading a CSV for more details.
Updating Contact Details
As we all know, reporters move around all the time, and there is a constant need to update contact details. Unlike when using spreadsheets, in Propel you must update a contact's details only once, and it will be reflected on all media lists throughout Propel. You can access and edit a contact's profile from My Contacts, or from any pitching list where they appear. The change will be reflected immediately, for all users, everywhere this contact appears in Propel.
Archiving a Contact
If you would like to hide a contact on all of your media lists, whether it's because they're no longer publishing stories or because they moved to a beat that you don't pitch for, you can archive that contact (managers or administrators only).
To archive a contact, go to My Contacts and click the archive button on a contact card.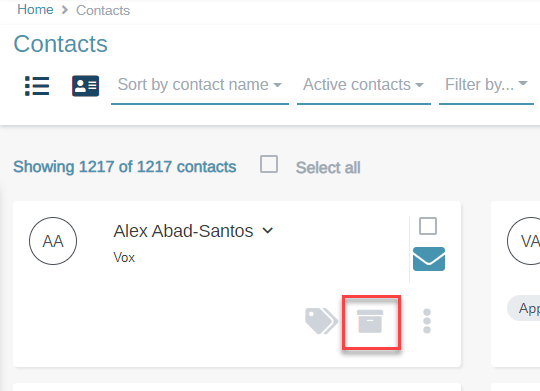 Archiving a contact from the My Contacts list
Alternatively, click the archive button at the bottom of the contact details section on the contact's profile.
Archiving a contact from the contact profile
This contact will be immediately hidden on all of your media lists. If you change your mind, you can find archived contacts using the active/archived filter under My Contacts. You can then use the unarchive button on the contact card to unarchive them.