An overview of the contact profile and how it can help you get better pitching results by improving your relationships.
The more you pitch, the more you learn about the contacts you are pitching. In Propel, much of this data is collected for you automatically. Below, you will learn about the types of data Propel collects about your contacts and how you can leverage this to get better pitching results.
Each subsection below relates to a different tab on the contact profile.
Leverage your existing relationship to get better results today
Propel automatically collects information about past pitching campaigns for each of your contacts. You can also record your own notes, calls, and upload attachments for each of your contacts. By reviewing this information before adding a contact to a new media list, you can gain an understanding of whether this contact is right for your current pitch.
Media Lists
The Media Lists tab shows you all media lists where this contact appears. You can see the related account, which user was assigned to pitch that contact, when the contact was last contacted, as well as any notes left for that particular pitch.



Together, this information shows you how frequently you are pitching this contact, and which of your teammates do most of the pitching.
Pitches
The Pitches tab shows you recent and upcoming pitches for this contact. You can see who has been pitching the contact and when, as well as the result each pitch. You can also see any upcoming pitches, sorted by publishing deadline. (Publishing deadline is an optional field for pitches, so it may not appear for every row in the list.)


Similar to the Media Lists tab, the information here gives you an idea of how frequently you are pitching this contact and which of your teammates pitches them the most. Additionally, you can see the results of the pitches. Compare your current pitch to this list – if the most similar pitches have all gotten responses and publishe articles, go for it! If the most similar pitches have not been responded to or even opened, this may not be the right contact for your current campaign.
Notes
By leaving notes on your different contacts, you and your teammates can share information easily. If you are the only one pitching, leaving notes can help ensure that you don't forget important details about your contacts.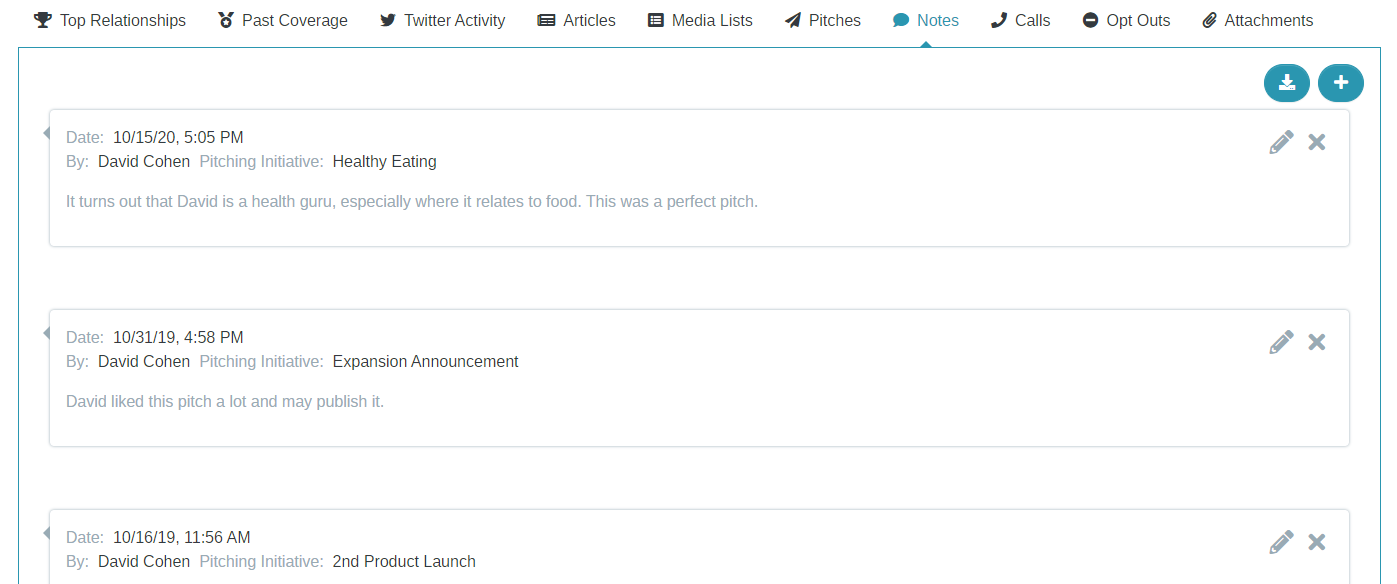 A simple example: One of your contacts tells you that they get so many emails that they almost never respond. They know your firm, and they know that you're serious, and so they give you their phone number and tell you that the best way to pitch them is by SMS or phone call. Don't be the teammate that misses a surefire published article by sending this contact an email instead of an SMS.
In short, always review notes before pitching to make sure you have the most up-to-date information about your contacts.
Calls
Similar to notes, you can record conversations with your contacts and then review them later on to make sure that you always take the right approach when pitching.

Attachments
Upload any documentation relevant to a particular contact. Review this documentation to make sure you're fully informed when adding this contact to your media list and pitching.

Opt Outs
Review any pitching initiatives or accounts where your contact has opted out. This should give you a pretty good idea of what they don't want to hear about. Is your pitch similar? Maybe this isn't the right contact for your current pitch.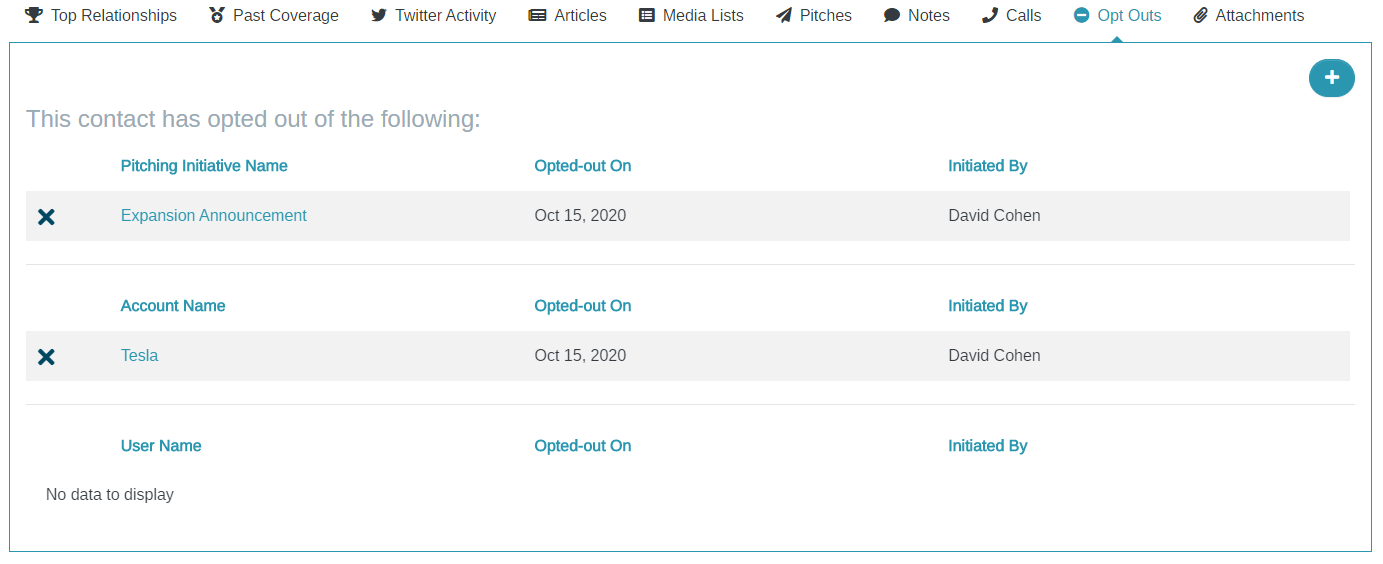 Verify current areas of interest before pitching
You've already reviewed your historical data about a contact. However, in today's fast-paced media landscape, reporters change beats at an unprecedented pace. Propel helps you to monitor a contact's current areas of interest to ensure that what you pitched them last month is still relevant to them today.
Twitter Activity
The Twitter Activity tab on the contact profile gives you direct Twitter insights without having to leave Propel. View tweet frequency, recent hashtags, and recent popular tweets to understand your contact's current areas of interest. You can also view the full Twitter feed here.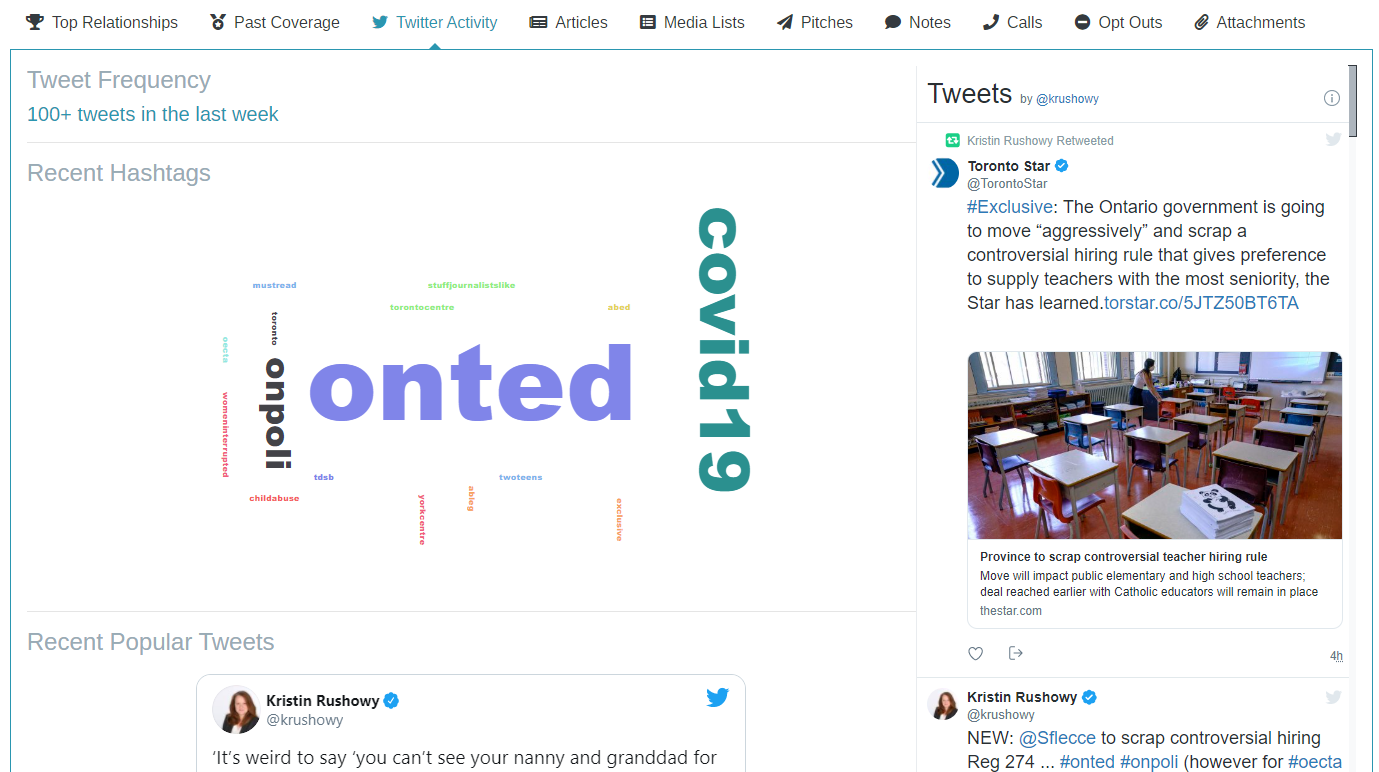 You no longer have to wonder about what's on your contact's mind – view Twitter activity before pitching and understand what's changed for this reporter since your last campaign.
Articles
There's no better way to understand what interests a reporter than to read the articles they've published. Read up on everything your contact has published recently and gain immediate insights into whether they are a fit for your current campaign.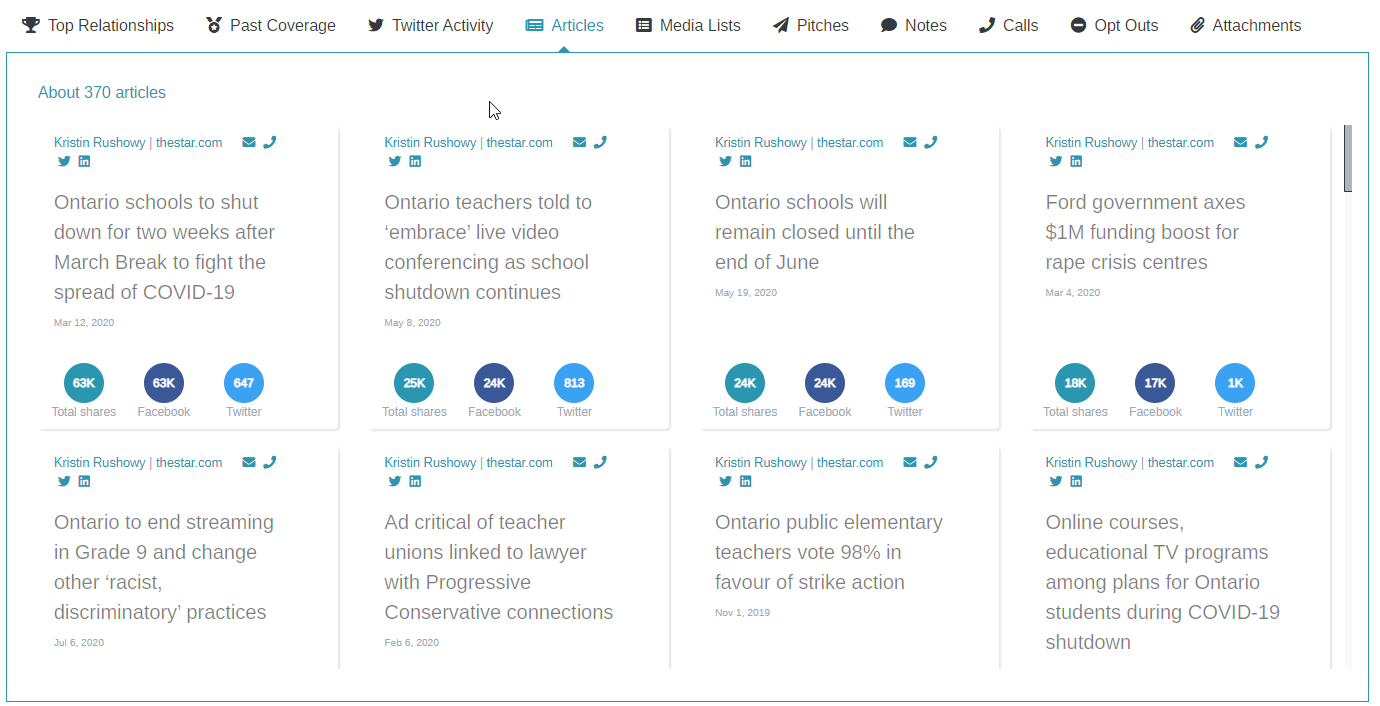 Pitch using the right approach to get the best result
Once you've reviewed your past relationship with your contact and their current areas of interest, you should have a good idea if they are right for your current campaign. If you decide that the answer is yes, it's now time to pitch your contact. Propel gives you several tools to help you take the right approach.
Pitching Preferences (left sidebar)
Reporters are super busy, and the more closely you can attune your pitching to their schedules, the better. The pitching preferences section of the contact profile tells you the best time and day for you to pitch your contact. These details are aggregated globally for all Propel users based upon the contact's response tendencies for past pitches and keywords from articles they've written, and then are adjusted for your time zone.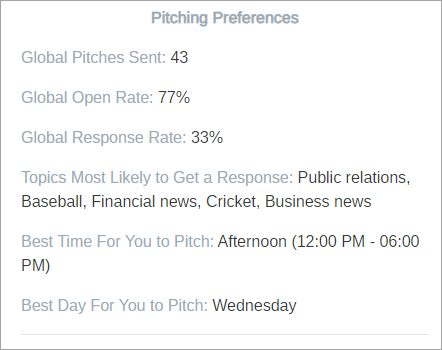 Remember that this is only a suggestion, and you can pitch your contacts as needed, according to your pitching requirements.
Top Relationships
If you are the only one on your team pitching, then you may remember your relationships with all of your contacts. However, if your teammates also pitch, the Top Relationships tab can help you choose the right approach when pitching.
The Past Correspondence chart shows you all pitches sent to this contact by your teammates, as well as their conversion rates (opened, responded, and published). Identify the teammates who have the best relationships, speak to them, and rely upon their past successes to help you choose the best approach when pitching this contact.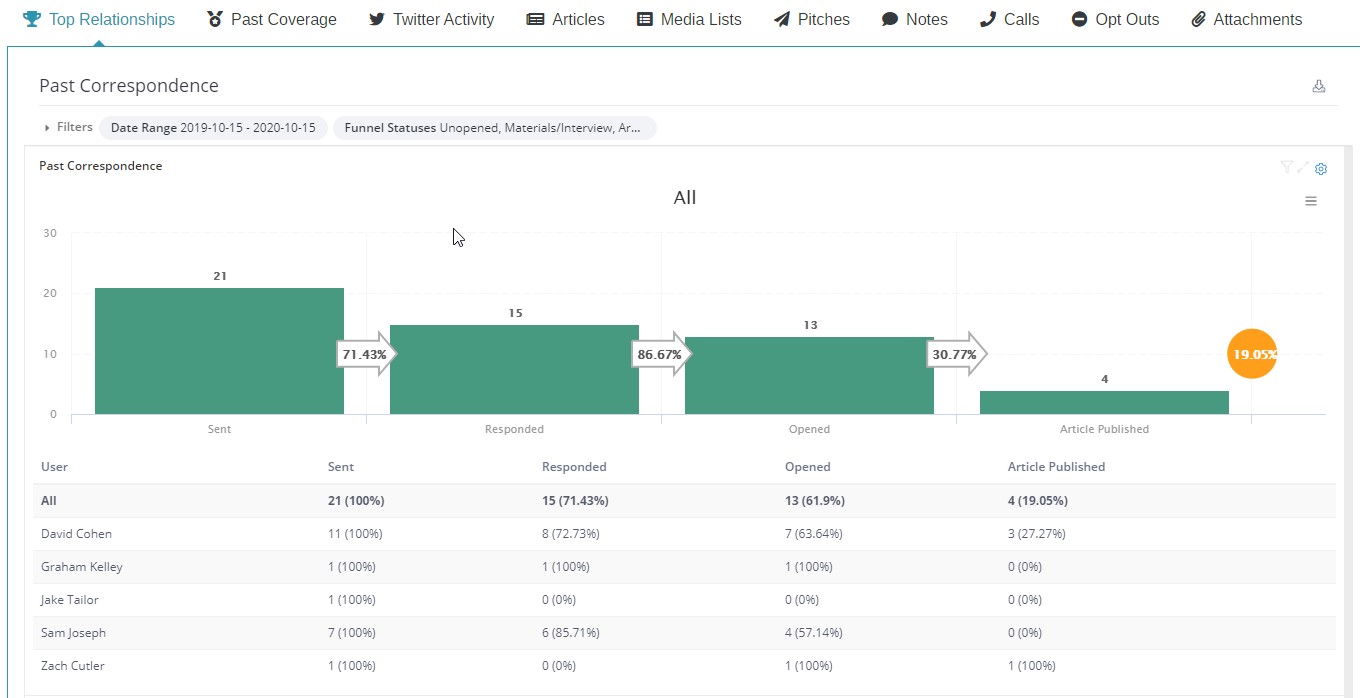 Past Coverage
If it worked last time, it could work this time, too, right? On the Past Coverage tab, review past coverage and read the articles this contact has written for you. Consult with your teammates who landed the articles, and ask them what made the pitches effective. Take advantage of your team's accumulated knowledge to write the best pitch today.