Use Propel's outlet search to find targeted publications to pitch.
To access the Outlet search, click on the third tab in the Discover section.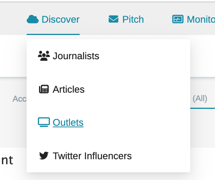 By name
One of the ways to search the media database is when you know which outlet(s) you're looking for. Let's say you know the outlet you want to pitch – but you don't have the main outlet email address/phone number, in this case, the outlet search is for you.
By category
If you're unsure about which outlets to pitch your story to, don't worry! Propel provides a diverse selection of over 350 categories for you to explore. These categories are specifically designed to help you connect with new outlets and journalists who might be interested in your story. You can easily navigate through different topics and industries to find the most relevant category for your pitch. So, whether you're searching for outlets in the technology sector, healthcare industry, or fashion world, Propel's extensive range of categories will assist you in discovering fresh opportunities to share your message effectively.
Additional filters
To narrow your search results, there are several types of filters you can use:
Outlet prominence
Location (city, state, country)
Email
Phone
Media type

Television

Online media

Freelance journalist

General

Magazine

News agency

Newspaper

Trade
Blog
Cable
College media
Microblog
Podcast
Radio
Adding Outlets to a Media List
Once you've identified the outlets you need, check them off and add them to your media list. You can only add outlets that have an email address or a phone number to a media list. Otherwise, you can click into the Outlet Profile and find journalists to pitch in the "Journalists" tab.