Use Propel's journalist search to find the right targets to pitch.
To access the Journalist search, click on the first tab in the Discover section.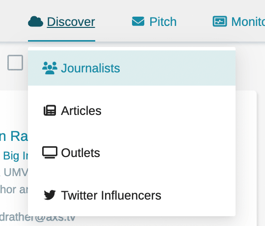 Using the Journalist Search
By name
One of the ways to search the media database is when you know which journalist(s) you're looking for. Let's say you know the journalist you want to pitch – but you don't have her contact info. Or you have a specific media outlet you would like to target, but you don't know the title and contact info of each journalist there. In these cases, the journalist search is for you.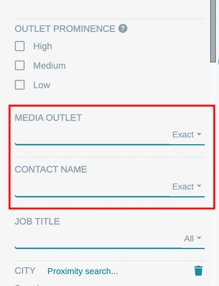 Search using the Contact Name or Media Outlet fields
By category
If you don't have any specific journalists in mind to pitch your story to, don't worry! Propel offers a wide selection of over 350 categories for you to choose from. These categories are designed to help you find new journalists who may be interested in your story. You can browse through various topics and industries to identify the most relevant category for your pitch. So, whether you're looking for journalists in the technology sector, healthcare industry, or fashion world, Propel's extensive category options will help you discover new opportunities to get your message out there.
By topic
The topic search is a free-text field that integrates directly with Propels' Article Search, so you can find journalists based on articles that they've previously written. The free text search will scan article headlines, and pull the authors of matching articles in the results on the right. This type of search is helpful for more niche topics that we may not have a category for or just to broaden your search results.
You can search for multiple keywords by using operators like AND, OR, and AND NOT - just make sure your keywords are in quotations.
For example: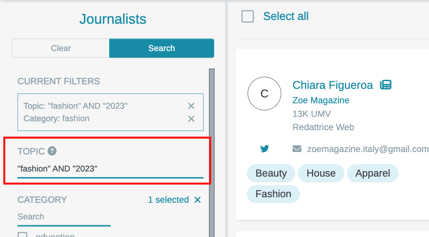 Additional filters
To narrow your search results, there are several types of filters you can use:
Outlet prominence
Job title
Location (city, state, country)
Email
Phone
Media type

Television

Online media

Freelance journalist

General

Magazine

News agency

Newspaper

Trade
Blog
Cable
College media
Microblog
Podcast
Radio
Adding Journalists to a Media List
Once you've identified the journalists you need, check them off and add them to your media list. You can also create a new media list on the fly!