Start your Propel journey here using this getting started guide.
This short guide will help you get up and running with Propel. Each section also includes links to more in-depth reading.
Invite Your Teammates to Propel
If you are not the one setting up Propel for your organization, skip to the next section.
The first thing to do when you first login to Propel is to invite your teammates to join.
Go to Settings -> Users.

Click the + button to open the Add User window.

Enter your teammate's details, choose the appropriate roles, and click Finished. You may read more about user roles here.
Repeat for each of your teammates who needs access to Propel.
Each user you create will automatically receive an email with their login details.
Note: Once you've created your accounts (in the next section of this guide), you can come back to user management and add accounts for each of your users. This can also be done under account management, as you will see below.

To learn more about user management, check out our Youtube tutorial.
Create Your First Account
After all of your teammates have access to Propel, the next step is to start adding your accounts.
What is an account?
If you are a PR agency, an account represents one of your clients. You will create one account for each client.
If you are an in-house team doing PR for your company, the definition of account is more flexible. Most in-house PR teams create one account for each brand. However, other possibilities exist. Consult with your Propel customer success manager to determine how best to set up your accounts.
Creating an account
Each pitching initiative/pitching list in Propel is connected to a single account, so you must create your accounts before you begin to create lists. To create an account:
Go to Settings -> Accounts.

Click the + button to open the Add Account window.

Give your account a name, add in the company website, upload a logo if you have one, and add any teammates who work on this account to the users field.
Notes:

If a team member plans on pitching for a particular account, they must be added to that account first. This can be done here or under user management.
Adding a company website will allow us to automatically determine if there is a backlink in any published article you record in Propel.

Click the Create Account button to finish.
Go ahead and create as many accounts as you need. You don't need to add all of your accounts at once – whenever it's time to create your first pitching list for an account, you can create the account then.
Note: After creating an account, you can view/edit details for that account by clicking on the account's name. The edit account screen has additional options for each account, so be sure to check this out.

To learn more about creating an account, check out our Youtube tutorial.
Build Your First Pitching List
Now that you've set up at least one account, it's time to build a pitching list. In Propel, there are three terms that are used interchangeably: pitching initiative, pitching list, and media list. The context determines which of these three terms is chosen.
The first thing to do is to create a blank list:
Go to Pitch -> Pitching Lists.
Click the + button in the top right corner to open the Add Pitching Initiative window.
Give your pitch a name, connect it to one of the accounts you created earlier, and click the Build Media List button. (Pitch type and publishing deadline are optional. You may use these fields if you choose.)

You've now created your first list in propel. The next thing is to add reporters to your list.
There are two ways to get started when building your list: adding journalists from the Propel media database, or uploading your contacts from a spreadsheet.
Building a media list from the Propel media database
If you are new to pitching or you're branching out into a new area of coverage, use the Propel media database to help you identify relevant journalists and outlets to pitch.

Please refer to our knowledge base article on Searching the Media Database for instructions.
Building a media list by uploading a spreadsheet
If you are a veteran at pitching and have your own database of contacts, you can easily import these into Propel from a CSV file. Please follow our detailed instructions for Uploading a CSV.
Other options for building a media list
As you continue to work with Propel, you will build your media lists in additional ways. Please refer to our full article on Building a Media List for details.

To learn more about creating and managing media lists, check out our Youtube tutorial.
Send Your First Pitch
If you followed the instructions in the previous steps, you should have built your first media list and have a pitching initiative ready to go. Now you're going to send out your first pitch.
Propel allows you to send pitches using either Gmail or Outlook, depending upon your mail client. The instructions provided here show screenshots from Outlook. You will find links to complete instructions for both Gmail and Outlook at the bottom of this section.
Install the Gmail or Outlook plug-in
If you have not already done so, this is the time to install the appropriate plug-in:
* If you have many teammates that must install the Outlook add-in, you may want to have your IT administrator deploy it for everyone. If so, please send these instructions to your IT administrator.
Sending a pitch
Sending a pitch using Propel is easy. It's pretty much identical to sending a pitch without Propel, with one or two additional steps:
Open a new email. You should see the Propel sidebar on the right side. (If the sidebar is not open, click the Open Sidebar button on the Outlook ribbon to open it.)

From the sidebar, select your pitch. Your pitches are grouped by account, so you should find your pitch under the account you created earlier.

Important! Selecting your pitch is the only requirement for it to be tracked in Propel. All the steps below are optional, although they will certainly help you to pitch more effectively.
After selecting your pitch, you have full access to the media list you created above. Click to view your media list.

Choose one of the contacts on your media list and click the Select button.

This adds the contact to your email.
Finish writing your pitch, and when you are done, click the Send button.

Congratulations! You've just sent your first pitch using Propel!
Propel gives you a number of other options for sending pitches, such as scheduling your pitches, mail merge, and mass generation of drafts. These tools will let you optimize your pitching process and save much time and effort on the most repetitive parts of pitching.
For full details, please read more:
Track Your Pitch Results
Now that you've sent your first pitch, it's time to look at how Propel tracks pitches for you.
Tracking pitches in Outlook or Gmail
Go into your sent folder and open the pitch you just sent. Propel shows you whether or not your pitch was opened, and if so, how many times. Also, on the right side of the screen, you will see the Propel sidebar.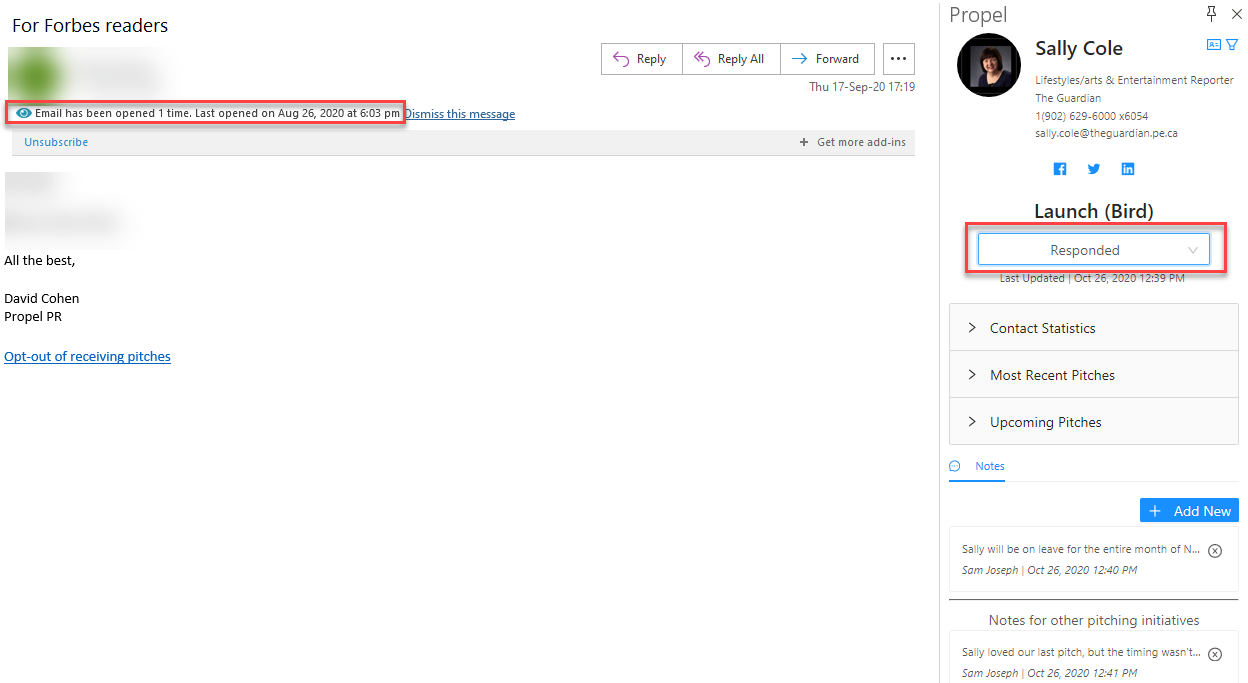 The Propel sidebar contains a lot of helpful information about the contact, including the pitch status, contact statistics, and contact notes. The sidebar appears not only for sent pitches, but also for all responses you receive to your sent pitches. Furthermore, the pitch status is updated automatically to Opened and then Responded based upon your contact's actions.
Tracking pitches in the Propel Story Funnel
Whereas the Propel sidebar in Outlook or Gmail shows you the status of a particular pitch, the Propel Story Funnel allows you to see the statuses for all pitches in a given campaign.
Go to Monitor -> Story Funnel.
Filter by pitching initiative to view only cards for your current pitch. You should see a card for the first pitch that you sent out.

As you send out additional pitches, additional cards will appear here automatically.
As you receive responses to the pitches you send, you can drag-and-drop the different cards into the appropriate statuses to keep track of your pitching efforts.
When one of your pitches is published, drag the appropriate card into the Article Published column. This opens a window that allows you to add details for that published article.

The published article will now appear in all of your reports.
Tracking pitching efforts through Propel reporting
Propel provides a number of different reports to help you track your pitching efforts. As long as you remember to pitch using the Propel plug-in and record your published articles, all of these reports are built automatically. Not only is this a huge time savings, but you will also have access to pitching statistics that you had no way of collecting in the past.

Propel's reporting is accessible from the Analyze menu in the web application. Make sure to take advantage of this reporting to keep on top of your pitching efforts.
Read more about tracking pitches through Propel
For additional reading about Propel's pitch tracking ability, please see this article about Tracking Pitches.
Wrapping Up
We've just completed an initial walk-through of pitching using the Propel media database and PRM. This guide has only scratched the surface of the features available in Propel and the benefits to you of using them. Please be sure to explore our other knowledge base articles, both those linked to from this guide, as well as those articles that may not have links from this getting started guide.
If at any time you have questions, please email us at support@propelmypr.com. Other support channels are also available on our support page.

Happy pitching!